The Legend of Zelda- Link's Awakening DX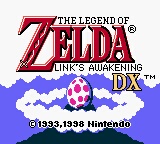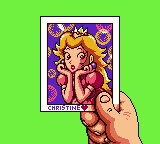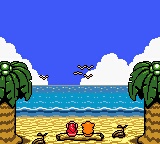 Zelda DX by Nintendo, is a re-release of the popular RPG from 1993. In this game you once again control Link the adventurer in more err... adventure! I found this game to be a good rerelease with some good things going for it.
The gameplay is above average, the quest is long and involved, and at the end you feel as though you know the characters. The control is typical nintendo fare, which means that you can play for hours without complaint. However, the new dungeon (one of the most heavily anticipated features in the game) was a serious let-down, in that it took about twenty minutes to beat. I already own the original Zelda GB and so it felt rather tedious going through the whole game over again.
The graphics (as can be seen in the pictures above) are just beautiful. Palettes were assigned for the most part in good way, making use of most of the 56 colors available to the GBC. The detail in some of the background tiles have also been improved. However, I felt that the palettes assigned to the characters could have been a bit less repetitive- I think there were a total of four different character palettes through the whole first half of the game (excluding the forest).
The music is great, and add effect to the game. In the dungeons it gets spooky, in the overworld the music fits the surroundings. In the new dungeon, there is a rendition of the old NES Zelda dungeon music, and it sounded very solid. The sound effects are also good, and add to the overall effect of the game.
So here's the final marks for Zelda DX - by Nintendo.
Gameplay -7- The same old game...
Control- 9 - With the same great control...
Graphics- 8 - With some good graphics....
Sound- 9 - And typically good music...
Replay value- 6 - It's agonizing going through this game over and over and over...
Overall score, 8 out of 10.
*note* I would have given this a score of 9 had it not have been for the fact that it is a rerelease, and that so many of us already own it.